Fair Rates. Low Fees. Nice People.
We have loans for people who want to live in their home, and pay it off fast so they can own it completely.
You won't need to call us to negotiate a great rate. And, we won't charge you most of the fees you'll find at other lenders.
All this, at an ethical bank where you can talk to actual humans.
Up Home Variable Rate Loan
With a variable rate, the interest you'll pay will match market conditions so your repayments might go up or down over time. Variable rates involve a little more fluctuation and risk. The rate advertised here is where you'll start your journey.
Up home loans are simple, transparent and negotiation-free. There's no secret offer you could be on if only you were mates with the right person or knew the magic handshake. And if the rate you're on doesn't feel right? Leave our variable loans any time, no hard feelings, no discharge fee.
Our comparison and annual rates are the same, because we don't charge most of the fees that can push comparison rates higher.
Up Home Fixed Term Loan
With a fixed term loan, you tell us how long you'd like to lock in your rate for. Then you can be sure what your repayments will be over that period of time.
Fixed rates offer certainty about what you'll need to pay. They can offer protection against potential future rate increases (but, you also won't benefit if rates go down).
Before the end of a fixed term period, we'll get in touch and see if you want to 're-fix' your loan. If you don't, you'll roll onto the current variable rate.
Fees (who needs them, not us)
Bank ads have to show both an annual interest rate and a comparison rate to make it easier for you to see the rate you'll actually pay once bank fees and charges are factored in. With Up, our comparison and variable rate is the same because we have so few fees.
No application or setup fees.

No monthly or annual bank fees.

No redraw fees.

No discharge fees: leave us when you like outside of a fixed term.

We also pay the first $400 in valuation costs, which covers most properties.
But wait, you can also...
Get started with a 10% deposit.

Spread your loan over a 30 year term if you need.

Make unlimited additional repayments on a variable loan or up to $30k for fixed rate loan.

Have up to 50 free offset accounts (more on why that's awesome here).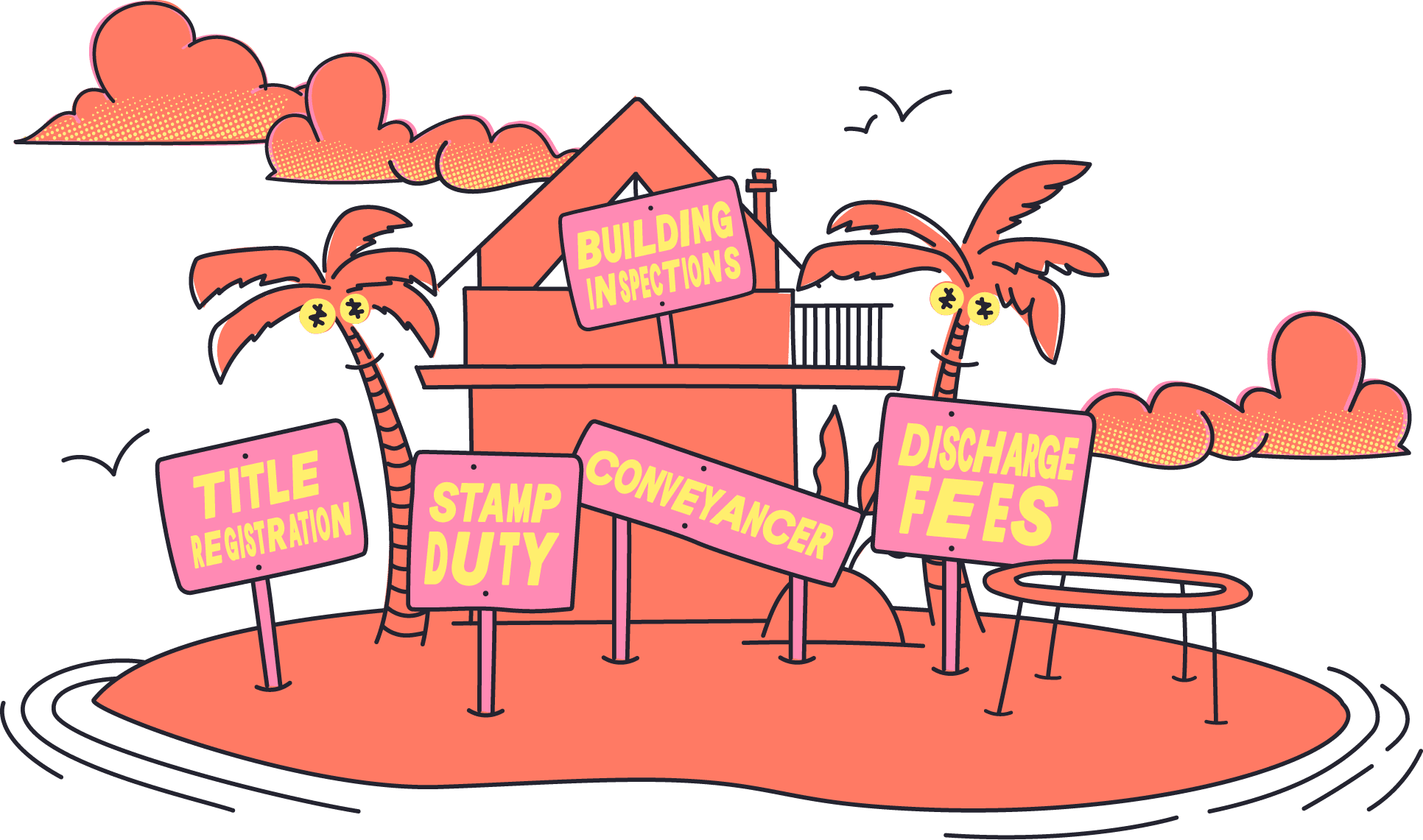 Just so you know
There are always other costs involved in buying a home and transferring the title, like stamp duty and title registration. You also may come across other purchasing and refinancing costs when buying a home, like conveyancers and building inspections.
If you already have a home loan with someone else and want to refinance to Up, your old bank might also charge you discharge fees.
When you're ready to finalise your loan, we have to collect some of these fees from you and pass them on to the relevant parties.