Master your Money Goals
with Up x She's on the Money
Welcome!
Up, Victoria Devine and the She's on the Money team share one big goal: to help the next generation of Australians take control of their money.
Up makes powerful money tools that give you total control and visibility over your cash. She's on the Money has a powerful financial framework that thousands of people have used to get out of debt, grow their savings, and match their spending to their true values. Today we're joining forces: combining Victoria's advice with smart Up moves you can use to put it into action.
Over to you, Vic!
The advice shared by She's on the Money is general in nature and does not consider your individual circumstances. She's on The Money exists purely for educational purposes and should not be relied upon to make an investment or financial decision. And stress less, Victoria Devine is an Authorised Representative of Australia Pacific Funds Management Proprietary Limited ABN 34 132 463 257 — AFSL 339151.
Know Where You Are, Know Who You Are
"When our finances are out of control, it can often feel like our lives are out of control. Nobody needs that stress.
Finance shouldn't be hard and it shouldn't be something we're afraid of, so let's start owning it, and take control of our relationship with money.
The easiest place to start is to acknowledge where we are at and face that reality — warts and all. There can be a lot of shame involved when it comes to money, and it's this shame which often prevents incredible people (like you) from actioning change. Let's put on a new attitude, and make a start today!
The other really important thing we need to understand is our money stories, which provide us with important context as to why we are the way we are with money. Say for example you grew up in a household where money was tight. As a result, you may save every penny you earn. Or by contrast, maybe money caused a lot of angst in your family, so as soon as you have it now, you spend it, because actually having money fills you with that sense of anxiety. Our money stories help us to understand our past behaviours with money and importantly, they can help us steer ourselves in a more positive direction in the future."
Vic's Top Tips For Taking Control Of Your Financial Life
Understand your money story. (Hint: Vic's podcast has heaps of other people's stories. Maybe some will spark insight on yours?),

Take finance back to basics — forget complexity!

Leave your shame at the door.
Putting It Into Action With Up
Up can help you understand your story. When you buy things, spending insights show you what you spend, when, and where. Are you a midnight impulse shopper? A stress splurger?

Savers give you space to organise what you have, what you need and what you want. Easy.

Upcoming Bills will help you understand what you've committed to. Stare those bills down: knowledge is power.
Set Goals Up and Smash Them Down
"There's no feeling quite like smashing a savings goal you've been working towards for ages. But we can't smash goals if we don't have any.
Let's figure out what you want for your financial future more broadly, then write down your short and medium—term goals so we can create a path to your big end goal. Say you're saving for a house deposit. If we establish our timeframes and put in place achievable milestones we can work towards, then our goals will be easier to reach purely because we're breaking them down and making them more accessible.
One of the most important parts of goal setting, which I talk about all the time, is to ensure our goals are ones we can actually achieve. For example, if we're earning $60k a year, it's pretty unreasonable to set the goal of saving $50k of that, because life is expensive.
Failing to meet that over the top goal can then leave us feeling really negative about ourselves and our ability to save, which then often leads to spending splurges and a subsequent feeling of worthlessness, and you my friend, are certainly not worthless.
So rather than shooting for the stars, I want us to aim for what will propel our financial position forward in a way that doesn't risk disappointment. In saying that, I know you're stronger and smarter than you think you are, so don't just aim to tuck away a few extra bucks a week — lay out your plan, follow your path and see the financial reward follow!"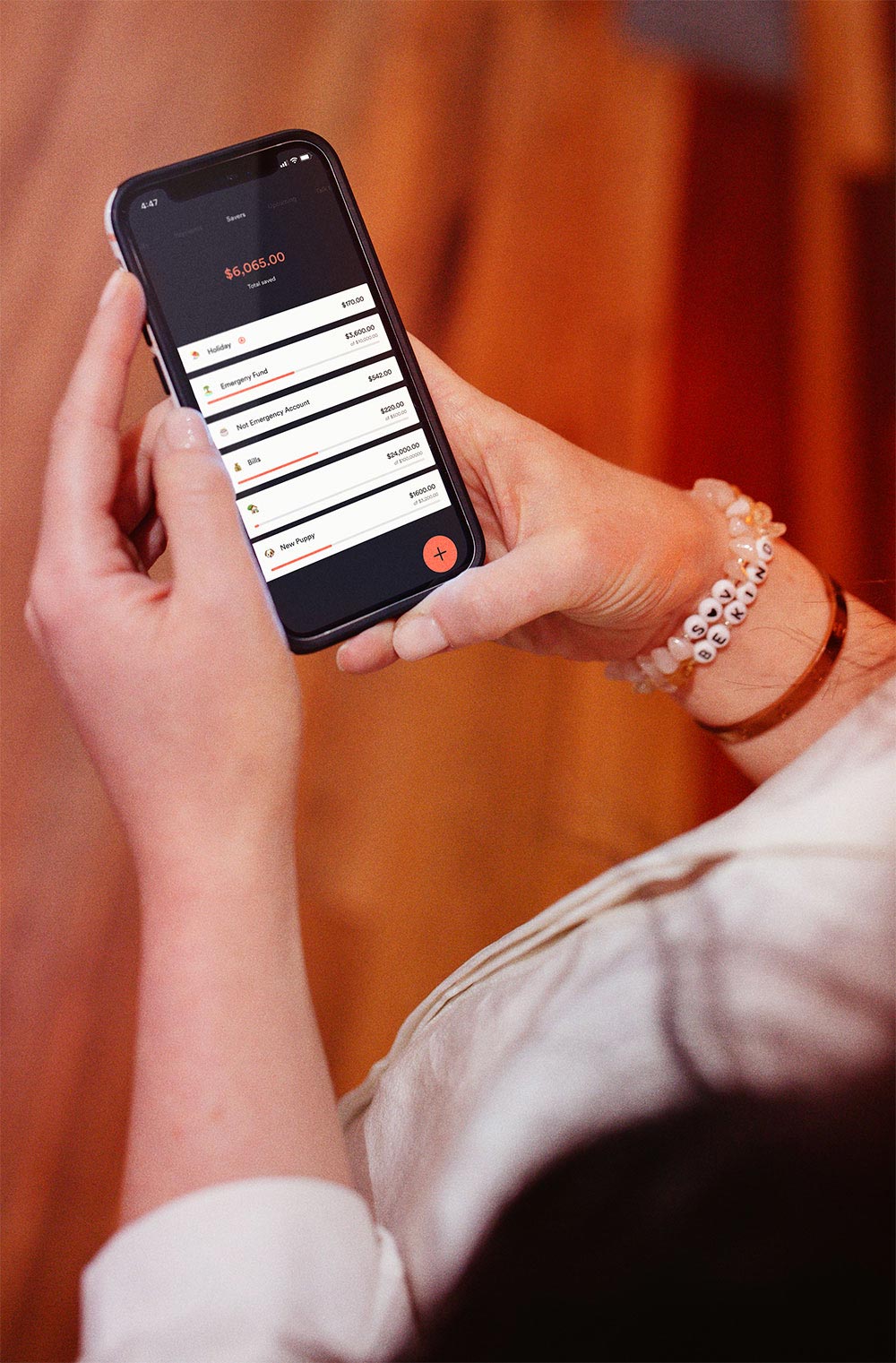 Vic's Top Tips To Setting Financial Goals + How To Put It Into Action With Up
1.
Write down your goals to keep yourself accountable and power yourself forward.
2.
Remind yourself to be patient: slow and steady progress is our aim.
3.
Be realistic about what your goals are. We don't want you falling short and feeling deflated.
Use Up's Savers to map out your money goals. Give each a recognisable emoji and a target amount.
Set up Pay Splitting or Auto Transfers to keep yourself on track. With Pay Splitting, you choose what percentage of your wage you want to put into each Saver. Auto Transfers are a set dollar amount you choose for a given date (say, payday).
Use Up's Insights to get the big picture. We'll show you what you spend and where — as well as your future commitments like bills and AfterPay due dates.
Budget Like A Boss
"Budgeting is one of the things I am asked about the most and the truth is, budgeting is probably not what you think it is. It's not about restriction or misery, it's about understanding your cash flow (the money you have coming in versus the money you have going out) to help you spend in a way that won't jeopardize your big money goals.
Rather than sticking to a strict budget of $50 a week that means we can't afford to go out for a wine with our mates on a Friday, I want us to start thinking about our budgets from a more holistic perspective and factor things like occasional splurges into our budget, so spontaneous spends don't sabotage all of our hard work.
A classic budgeting mistake I see people making is having a diet—like restrictive mentality when it comes to money, where they'll allocate themselves the bare minimum amount to last them the week on a Monday, but by the time Friday rolls around they're so sick of being frugal that they lash out and spend big, reversing all of their hard work. For this reason, our budgets need to be sustainable and practical, all while still working toward our end goal of financial freedom. Once you're on top of your budget you'll know when and where your money is going, which will make the path to other goals like saving and investing a whole lot clearer."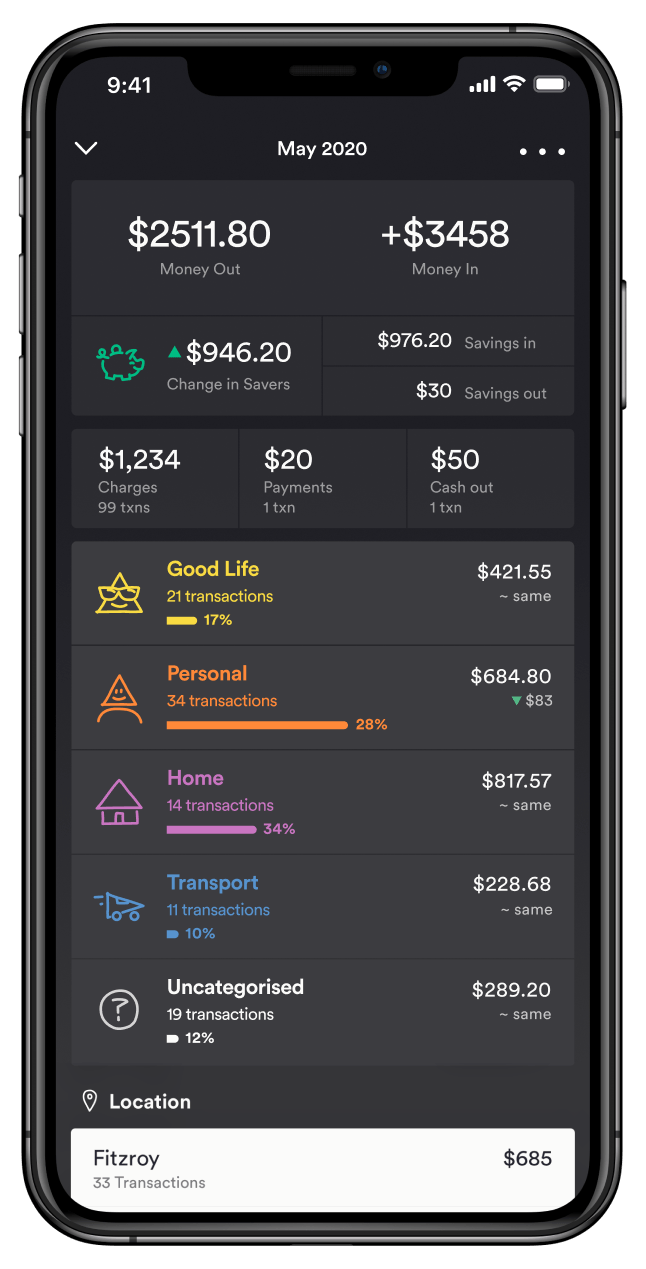 Vic's Top Tips For Budgeting + How To Put It Into Action With Up
1.
Factor in the fun stuff, so you don't have to go without.
2.
Throw restriction out the window — sustainability is our goal.
3.
Understand your cash flow as that's the key that will inform your budget.
Once you've got a view of what you need, what about things you want? When your Rent and Food Savers are handled, maybe kick off a Coffee saver, a Friday fund, and a Someday Doggo dream. Heaps of Upsiders use (and boost) Round-Ups to boost their fun savers.
Keep it smooth by combining savers with Covers and Forwards. When every dollar has a place, and there's a place for every dollar, it's easier to roll at a sustainable pace.
Spending Insights let you see at a glance how you've tracked in a given month. How much did you earn, how much have you spent, and how much have you put towards your savings goals?
Learn, Share and Celebrate Your Wins
"Money management — like so many things — is just easier when we're able to talk about it with our mates. For way too long money was something we felt we couldn't talk about, but I want us to leave all of that behind because the more conversations we're having about money, the better.
There is so much confusion out there when it comes to finance and conversations with our mates not only make things easier, but they also mean we can support each other in a whole host of other ways. Like pointing each other in the right direction if we are in a bit of financial trouble and feeling overwhelmed, or being each other's cheerleaders along the way to help us stay on track. Mates make everything better, and money is certainly no exception to that.
If your friends aren't interested in money chats, I get it. Finance definitely still has that stuffy, suit—wearing aura about it, but I think that's changing and I honestly believe there is no better time than now to get excited about money. If you do have friends who are resistant to talking finance, I'd suggest pointing them to the resources that helped you become excited about money. I can think of one podcast I'd definitely recommend…"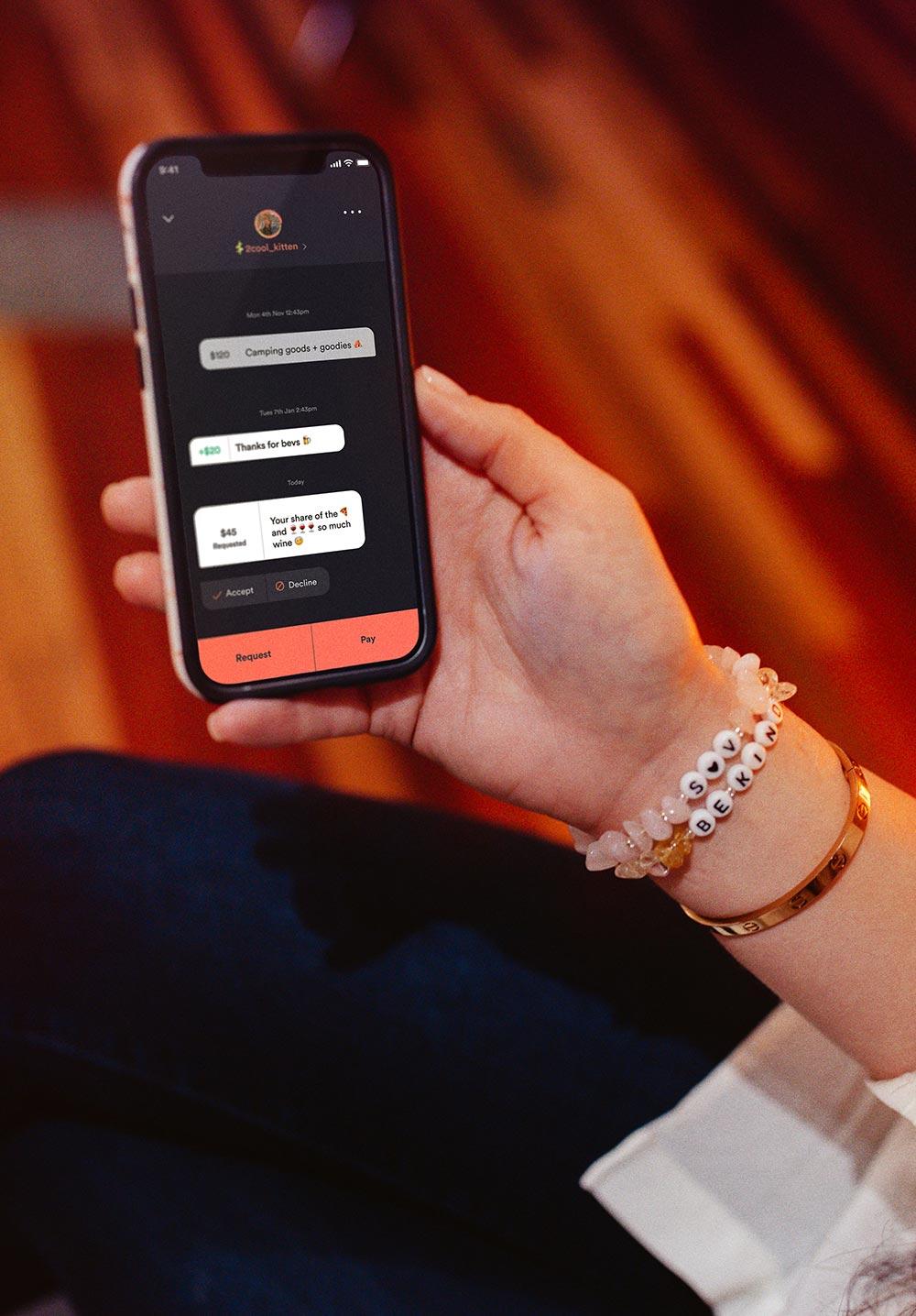 Vic's Top Tips For Making Money Better With Mates
Organise money catch ups where you chat all things finance to help keep each other accountable.

Introduce them to the resources that inspired your interest in money — share any podcasts, blogs or books that helped on your journey to realising that money conversations don't have to be bland.
Putting It Into Action With Up
Talking about money is awesome. To get the conversation started, Up makes money with mates easier and less awkward. Pay them to their preferred $Upname, request money after a dinner date… sending money is just like a conversation, so let's chat while we're at it.

Why not share your money wins when you fill up a Saver pool! (Seriously, hit Talk To Us when you fill that Someday Doggo fund, because our support team would LOVE to meet Furdinand.)
Product & offer T&Cs @ up.com.au/terms. Up accounts issuer Bendigo & Adelaide Bank.
Payment requests promotion T&Cs.
The advice shared by She's on the Money is general in nature and does not consider your individual circumstances. She's on The Money exists purely for educational purposes and should not be relied upon to make an investment or financial decision. And stress less, Victoria Devine is an Authorised Representative of Australia Pacific Funds Management Proprietary Limited ABN 34 132 463 257 — AFSL 339151.