Perk-up with a
coffee on
the house
Random acts of free coffee.
Weekdays on Up 7-11 a.m.
Buy your morning coffee with Up and it might be yours on the house.
Is #perkup running?
Perk-up runs weekdays, 7-11 a.m. local time wherever you are in Australia.*
Check this page to see when you could score a free pour. On weekdays when the competition is running we'll post the daily prize pool along with a real time feed of winners.
*Exception: AWST will apply in ACWST areas.
How do I play?
While Perk-up is running use your Up card (physical or digital) on a spend of up to $6.50, and there's a chance that you'll get it for free. Perth or Melbourne, it's all good - we'll roll with your time zone.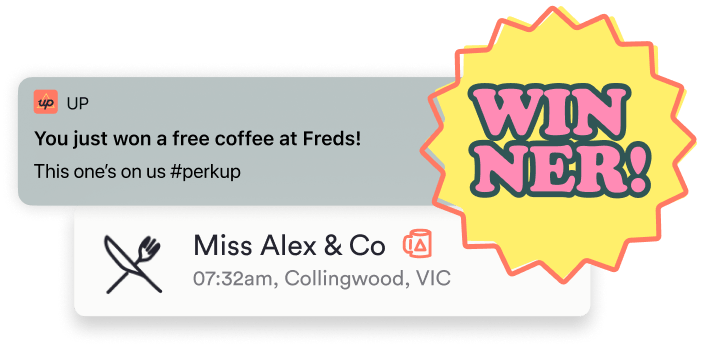 Am I a winner?
Instead of your standard transaction notification, winners will automatically receive a welcome surprise - the good news that this particular coffee has been taken care of. That'll be an extra hot skinny flat white with a dollop of delight.
If you're lucky enough to win yourself a cof-free (get it?) you'll get a notification letting you know that this coffee was on us.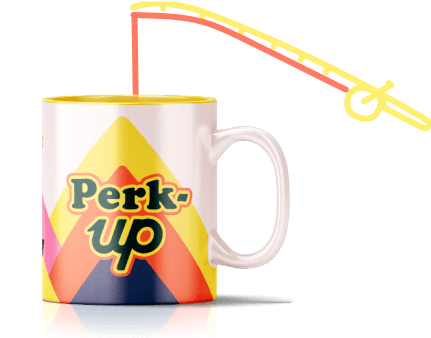 What's the catch?
Make a purchase of $6.50 or less from any merchant that falls under the Up purchase category 'Restaurants & Cafes' while the Perk-up promotion is running to have a chance of getting that purchase paid for by Up.
Entry is only open to Australian residents who are 16 years and over, have an Up Everyday Debit Card Account and have registered access to the 'Up' banking App on their compatible device.