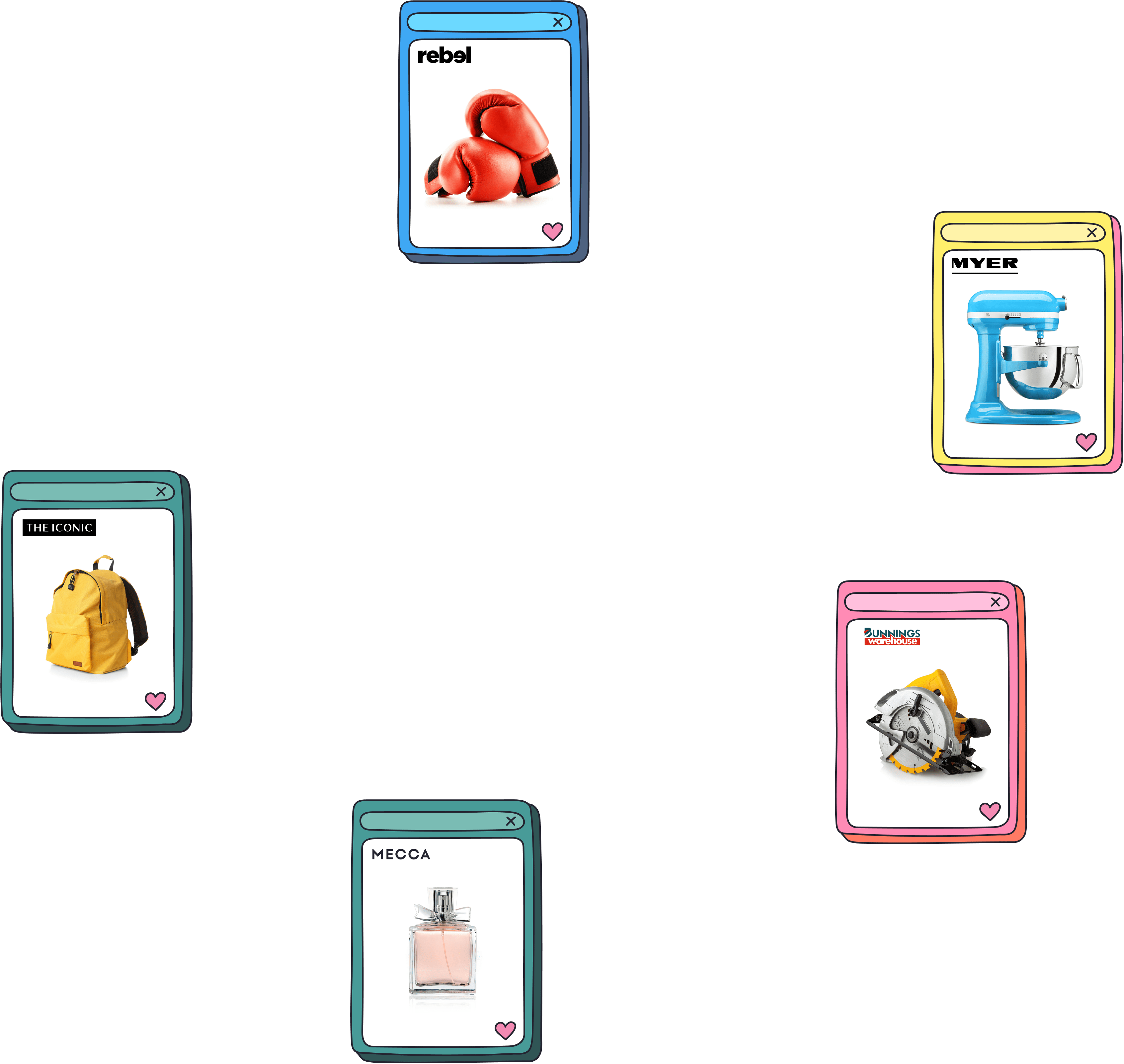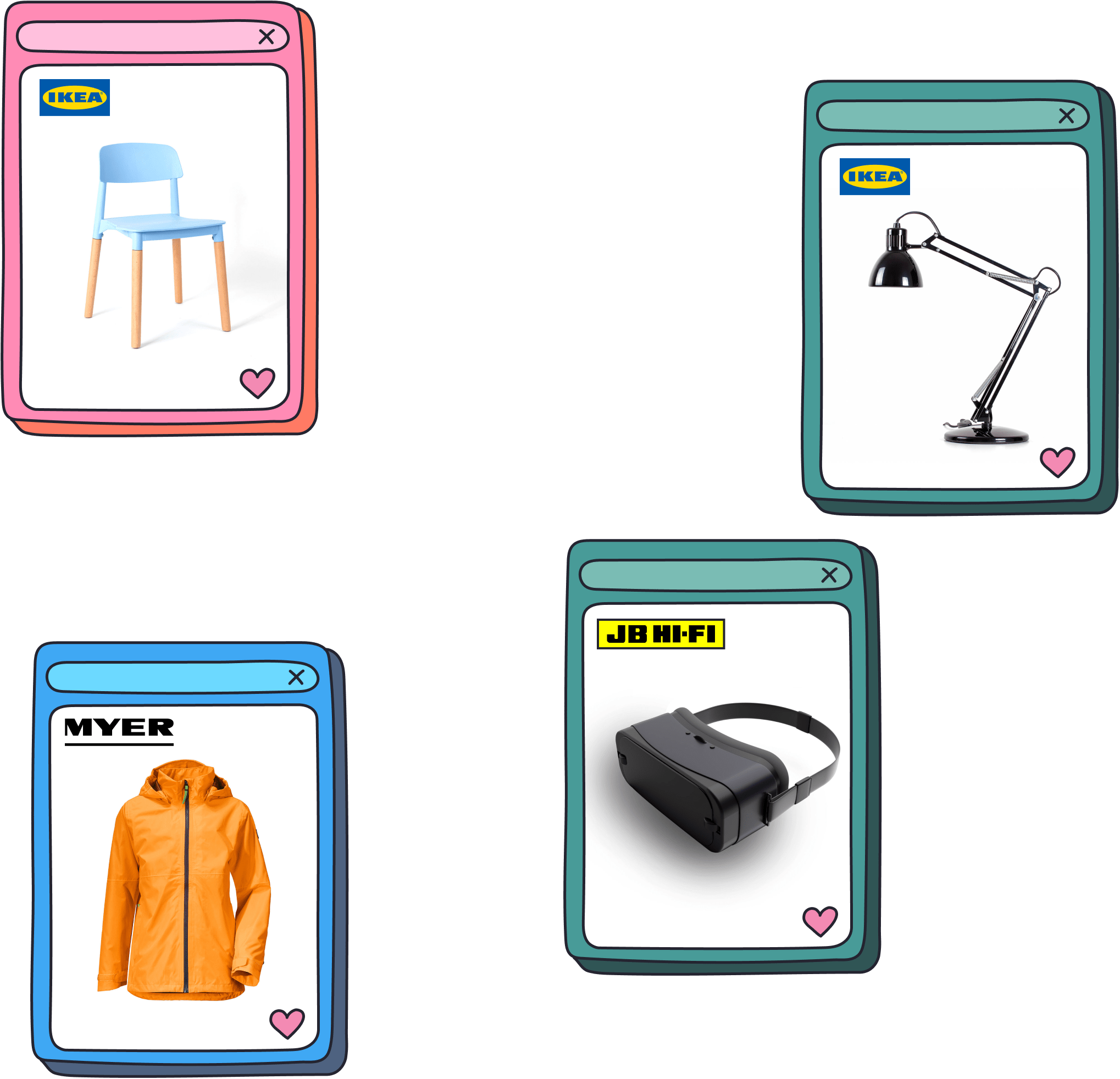 Buy things you actually love,
with money you actually have.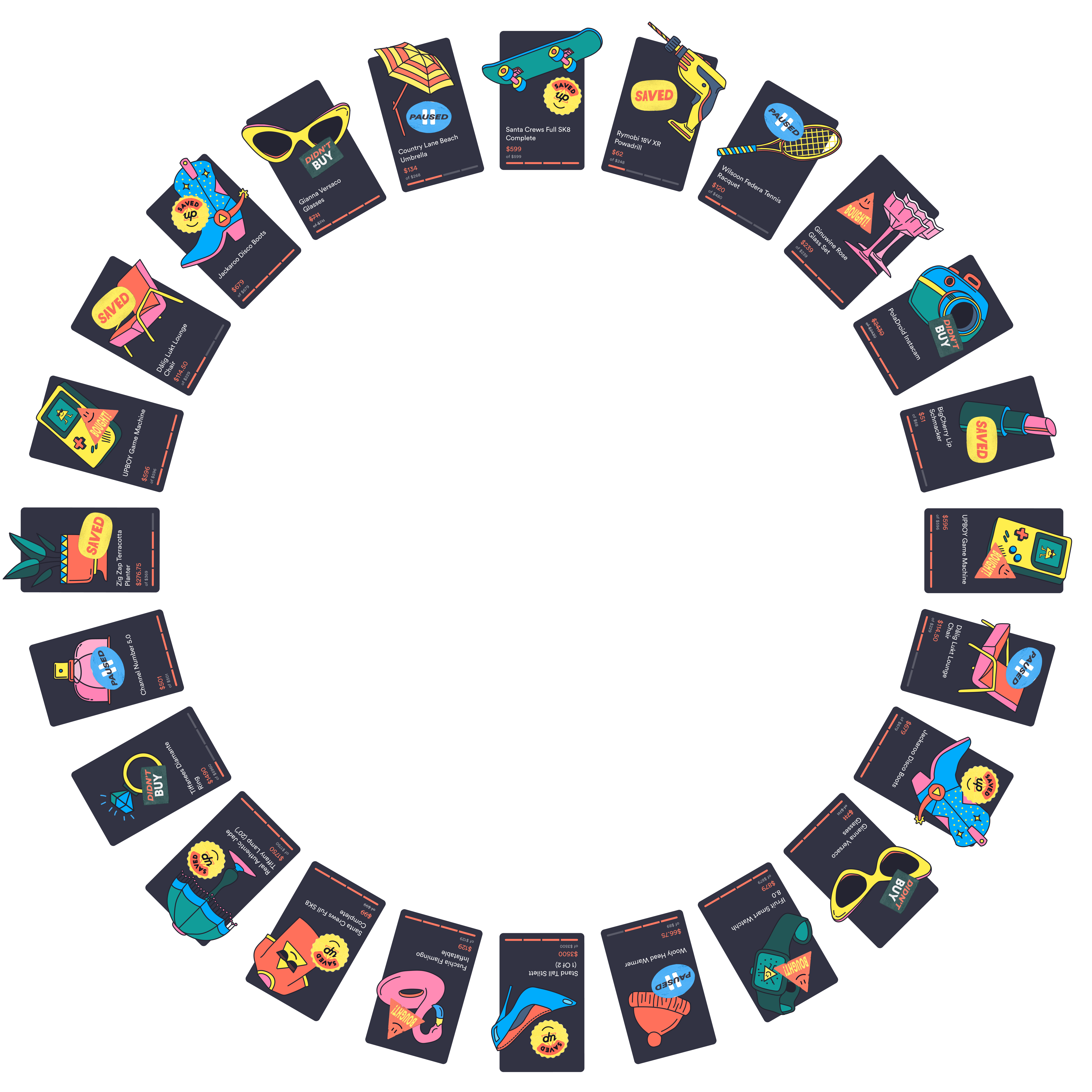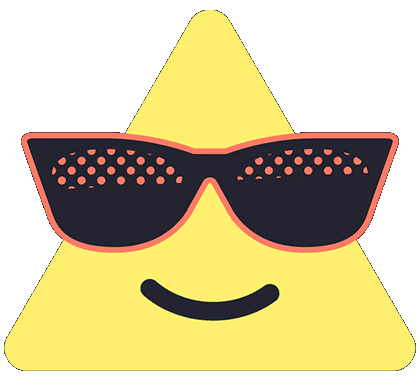 Save Now,
Maybuy Later.
Fresh new PJs and PS5s. New releases and once-in-a-lifetime gigs. The world is full of amazing stuff! But it's no fun to look back with regret on the less great stuff we bought in the rush of a sale or a late night scroll.
Welcome to Maybuy. A new place to save the things you crave and save up for them too.
Don't buy it.
Maybuy it.
When you find something you love online, hit the share button and add it to Up. Close tab in confidence: we'll keep your dream safe.
Then pick a savings schedule that suits you. We'll show you how much you'll put away with each save, and when you'll be done. Play with your Maybuy till it feels right for you.
When you make your first save, Up will schedule the rest.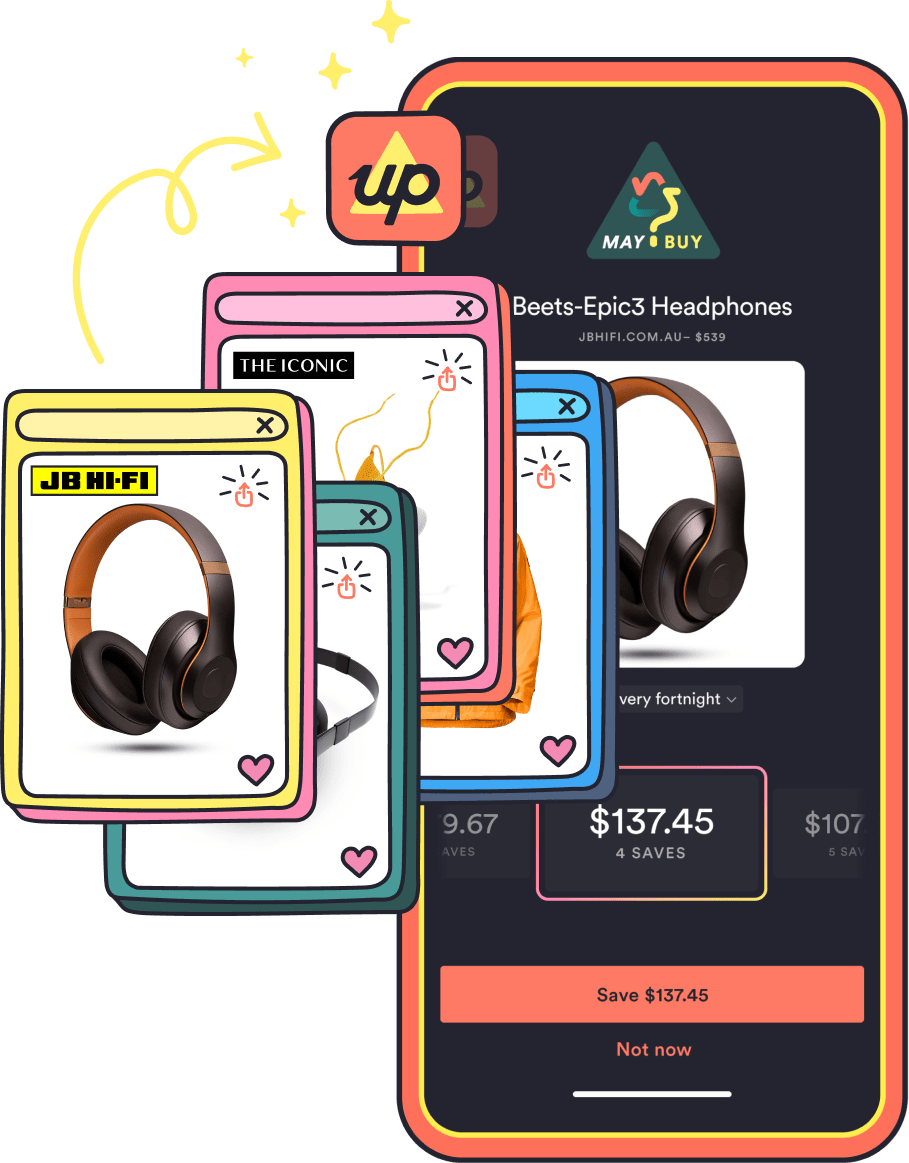 Keep your eyes
on the prize
Maybuys that you've set up live in the Savers screen of your Up app. Whenever you'd like to feel that warm fuzzy savings hug, you can check in on your progress, and see your upcoming saves.
Bask in the light of your Maybuy treasures, and nix anything that looks a bit less great now you've had a chance to think about it.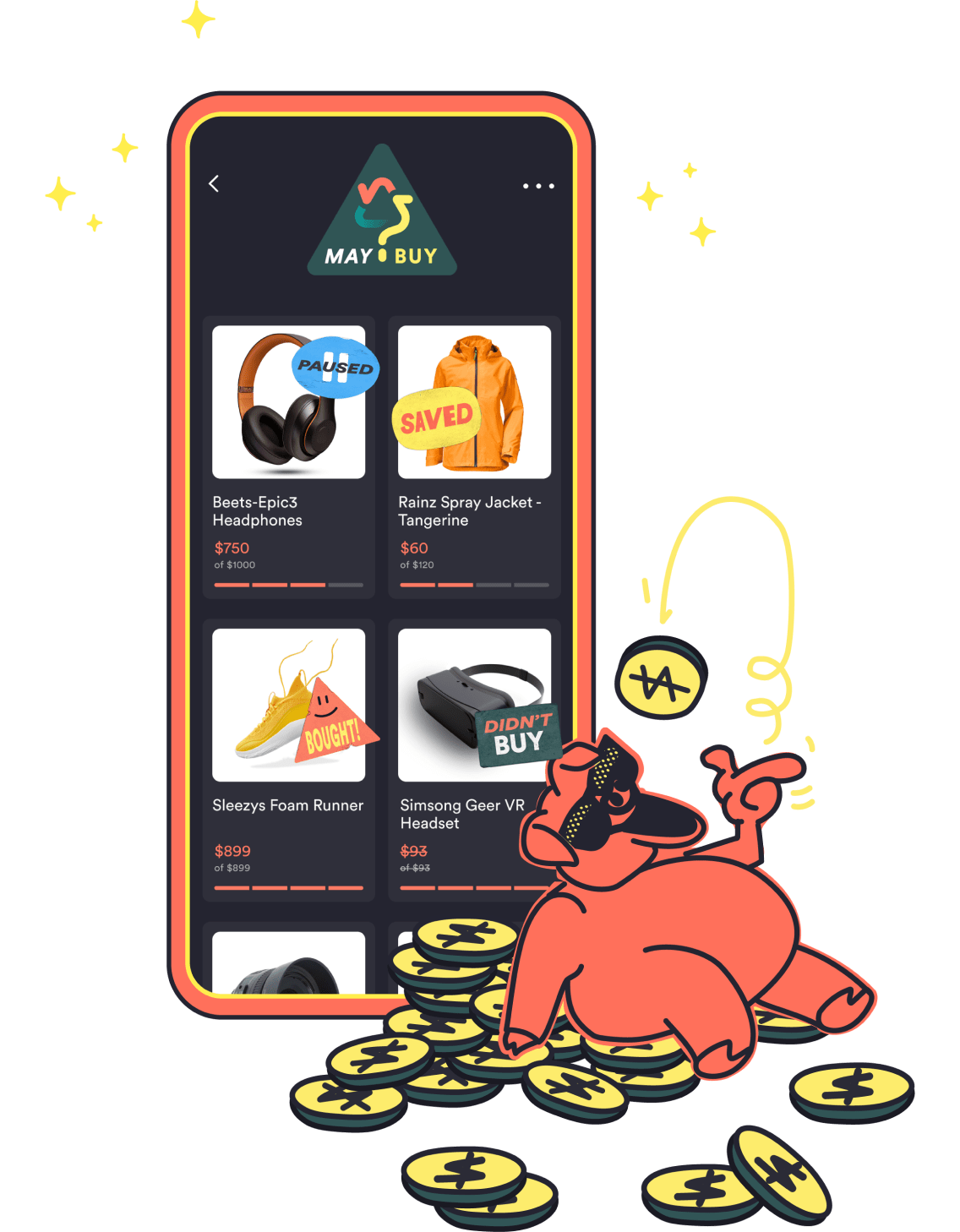 Maybuy.
Maybuy not
When you're all saved up for that PS5 or new parka, go buy it guilt free! But if your plans change, or you need those dollarydoos for something else, just pause or cancel your Maybuy. Your dollars return safely to your spending account.
Regrets are for Vegas, not your bank account.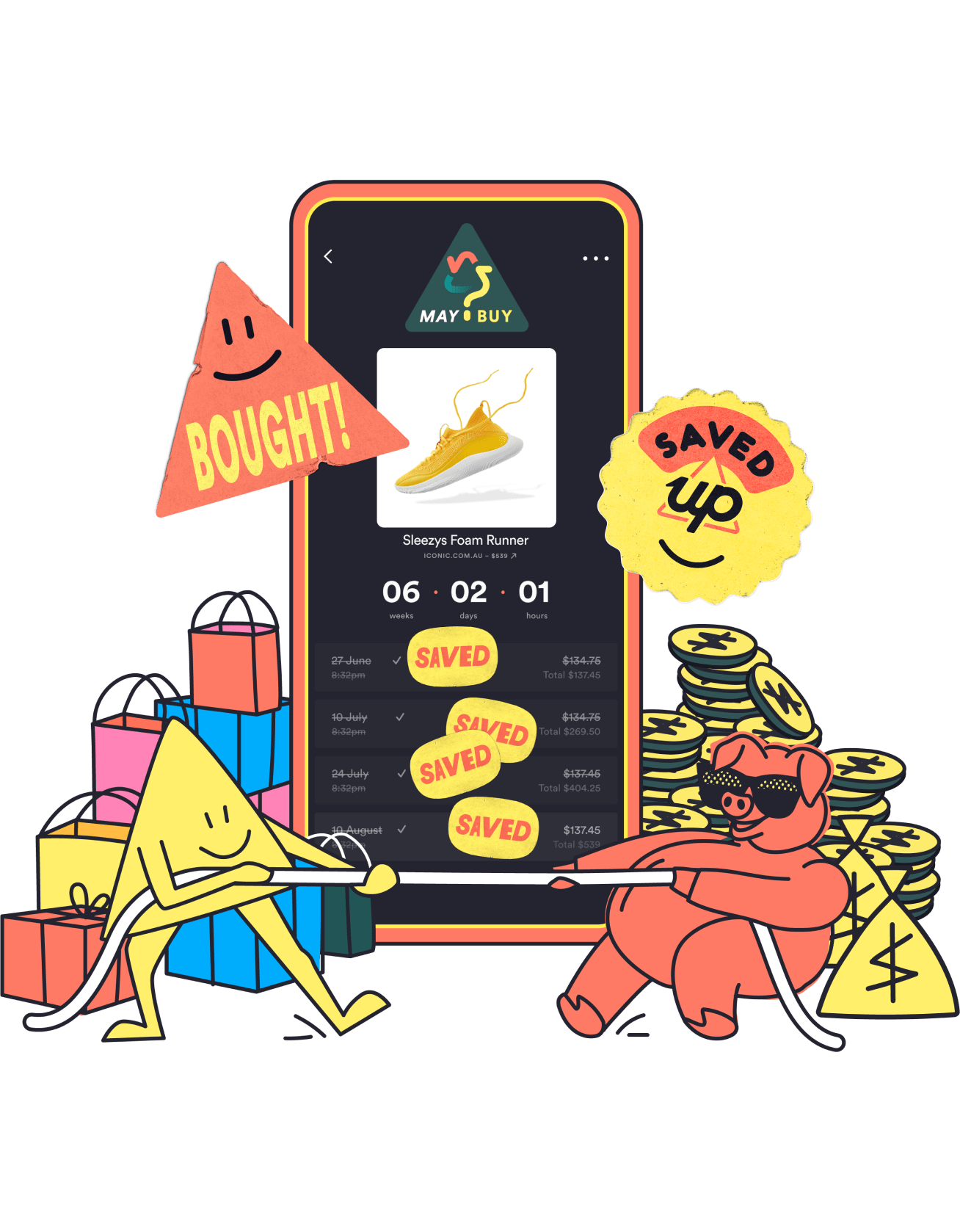 Visit the Maybuy Exchange
Wednesday 3 August - Sunday 7 August
226 Swanston St, Melbourne, VIC
T-shirt with Tom Hanks on it? Teapot? Tiny hands? We've all bought stuff we regret.
To celebrate the launch of Maybuy we're giving your bank account a second chance. Bring in something you regret buying and swap it for a spin on the magical Anti‑Impulse Machine.
Explore the Exchange
Questions?
At the moment there isn't a way to make extra contributions. Maybuy is currently designed to save the set amounts on their scheduled dates.

Absolutely!

Each Maybuy is its own Saver, so once you've activated the bonus rate for the month, you'll earn interest as you would on any other Saver 💸

You can absolutely Maybuy with your Player 2 👭

During setup, before locking in 'amount of saves', you can ✔️ the 'save with $Player2' checkbox and each save will come from your 2Up Spending account.

That would be pretty awesome. Right now though it's just individual items.

That depends. Each Maybuy is its own Saver, and you can have a total of 50 Savers with Up.

So, just as an example, say you already had 15 Savers, you'd be able to create 35 Maybuys before you maxed out at 50 💪

Maybuys don't reserve or purchase the item for you like a Buy Now Pay Later service would. (But also nobody but you has your money). Think of Maybuy as a Saver, with the primary focus on helping you save for something on your own terms, with your own funds.