FEATURE: INTERNATIONAL PAYMENTS
International Money Transfers
with Wise.
Get your money where it needs to be, hassle-free. Up has partnered with Wise to give you one of the fastest and cheapest ways to send money overseas.
Easily move money directly from your Up account into your Wise account and from there into 48 different currencies.
But Don't Just Believe Us, Do A Comparison
Old-school transfers go through several banks, and each of them adds a fee. You might be able to see what that fee is in advance… but then again, you might not. Sometimes the fee is even hidden in an 'exchange rate', which seems less than cool to us.
Wise charges you the real exchange rate plus one small, transparent charge; there is no additional fee for using Wise through Up.

The data supplied in the comparisons above was supplied by Wise on through their Comparison API. Their Comparison disclaimer applies to the information and calculations shown. Fees and rates shown are estimates only.
How does Wise collect this data?

Smash Nasty Surprises
Wise tells us exactly what each transfer will cost, and we show you this price in real time. You'll know exactly how much it'll cost you to shout your mates in London a pizza, or pay that Hungarian freelance designer. Before you press Send.
You'll even get an estimated time of delivery. Knowledge is power.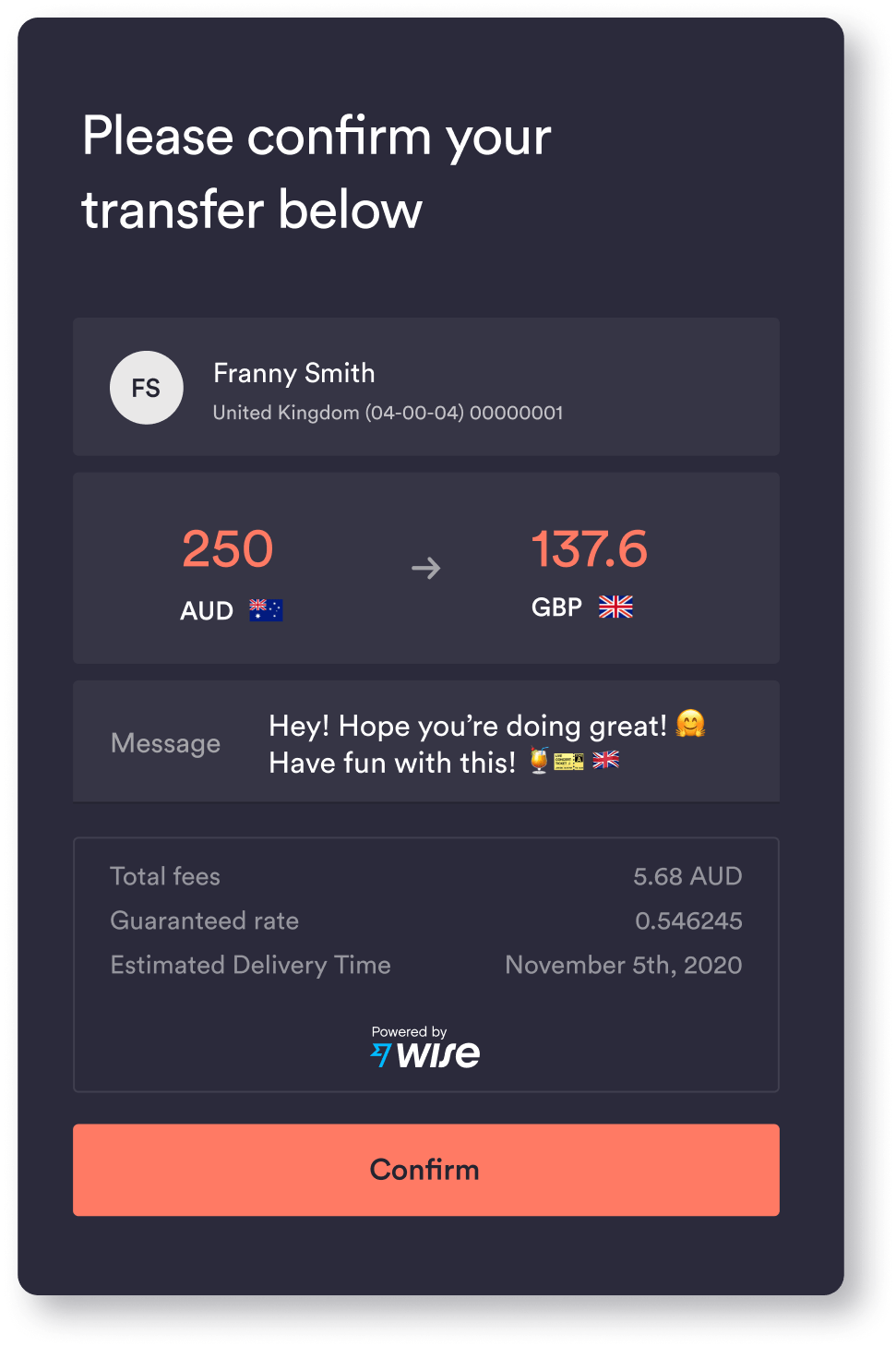 Wise has excellent exchange rates and it's amazing that I can send money from Australia to Europe and the recipient receives the money within 2‑3 hours. I've used to pay $22 for international transfer fee through my bank and it took days for the money to go through.
Trustpilot review by B Tavali
Safety First
We have fun. But we keep it safe. Up loves Wise because they have bank level safeguarding, and geek out on data security just like we do.
8 million customers use Wise and they move millions of dollars around the world every day.

We both operate under strict Australian regulations.