Take on a new adventure with your Player 2
2Up is a new way to fight finances together in co-op mode. Easily invite your Player 2 and join forces to battle bills, save for shared goals, share expenses and track spending.
Two player enabled

Quick in app set up

One player private

Easy in app closure
2Up gives you a separate world to share finances as one. Your personal accounts stay yours as you start working together with a shared debit account, joint Savers & instant digital cards.
Add your Player 2 in just a few taps and master new connected abilities. Start small with a few bills or go all in and build your financial empire together.
Are you ready to play?
See Who's
Spending
Keep it clear, share it all, and easily track who's buying what.
Save as
a team
Create Savers you can both contribute to. Power up!
Bills and Budgets in Co‑op
Pay shared bills, view insights and add Trackers for tag‑team budgeting.
Help's a
2-way Street
Start a 2Up support chat to share the load and solve any problem as a team.
Level Up Together
Whether you're splitting the Netflix bill or saving for a castle of your own , 2Up is more than shared accounts – it's a collaboration.
Your individual spending stays separate, with privacy and control over what's yours.
But together you're unstoppable. With powers combined, you'll have spending and savings accounts perfect for the stuff you choose to share.
Score New Insights & Spending Moves
You and your Player 2 are blessed with a heightened sense of financial foresight.
2Up equips you both with equal access to your spending insights for ultimate clarity. Know where you're spending together. Keep track of your shared bills and commitments, and add on Trackers to your categories to really stick to the spending game plan.
Digital Cards Made for Two
Digital cards ensure that you and your Player 2 are one. Instantly add your 2Up card to Apple, Google or other supported digital wallets and start spending together.
You're each your own card master with unique card numbers ready in-app for speedy online spending.
Adding money to 2Up, retrieving card details and finding your account details are light work with quick actions. A swift pull down on your activity feed quickly reveals all.
2Up physical cards will be available 2022.
Automate Transfers. Equally.
Set up Automated Transfers in or out of your 2Up and personal spending accounts.
Pay yourself and your Player 2 a regular allowance into your personal Up spending to automate your shared budget.
If you prefer to spend as 2, create an automated transfer going the other direction for set and forget equal contributions into 2Up.
2 heads are better than one.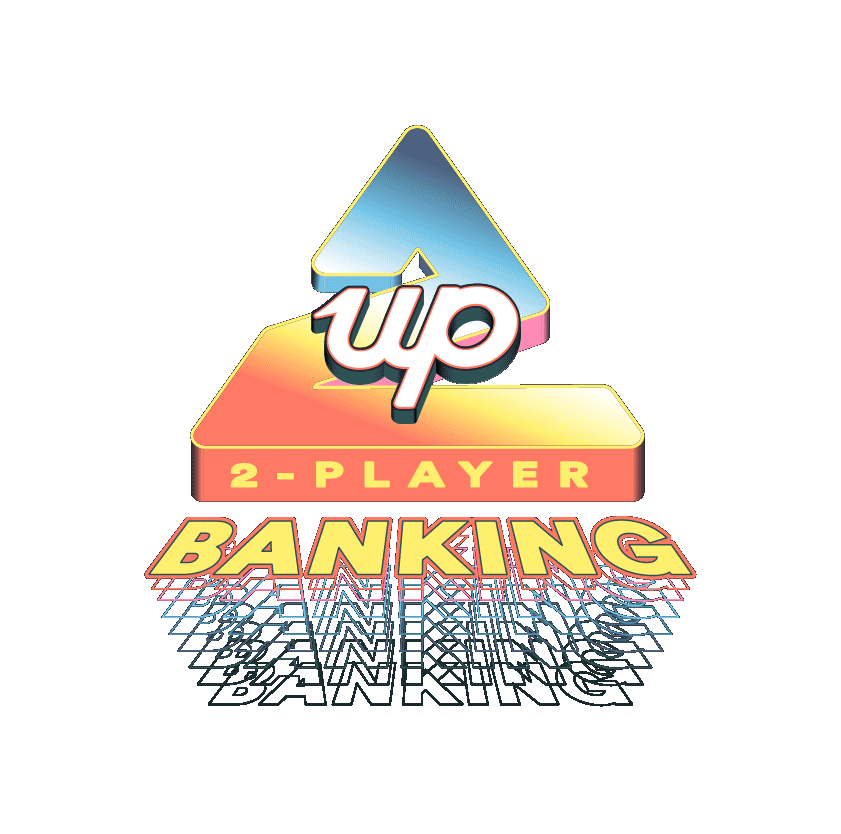 Already have an Up account?
Head to the Up tab in-app to invite your Player 2.

New to Up?
Grab your Player 2 and join in minutes.
Questions?
Make sure that you've updated to v2.0 of the Up app. Tap the 'get early access to 2Up' banner to invite your Player 2. If you miss it the first time, look for it under the Up tab.

If your Player 2 isn't an Upsider, send them an invite through Hook Up a Mate first.

At release, you will be able to use all the regular Up payment features except payment requests, pay splitting, and International payments.

International payments have to be linked to individual Wise account holders, so you'll need to use your own Up account for those.

You will both see every purchase made on your 2Up Spending account, and each purchase will show who bought what. If you contact our Support team, you can choose to both be included in the chat.

And of course, your own Up accounts are completely your own. Neither of you can see, smell or touch the other person's main Up account.

At this point, 2Up is for two Upsiders only, and each Upsider can be part of one 2Up at a time. Shared accounts (for more than two people) are planned for the future.

So if you had a 2Up with your flatmate you'll need to shut it down before you make a fresh account with your new Player 2.

You both have full access to spend, transfer or make payments with money in 2Up without requiring permission from each other..

It's important you only join 2Up with someone you know well and trust. Only add money to 2Up you're happy for either of you to spend.

Your 2Up Everyday account is a spending account and does not earn interest. 2Up Savers are eligible to earn bonus interest once unlocked. Purchases made using your 2Up Everyday account contribute to the five transactions needed to unlock bonus interest repayments across both your personal Up Savers and on 2Up Savers. So if between you and your 2Up you make five purchases, you'll both earn interest on your private Up Savers and 2Up Savers.

At present, Up Savers pay up to 0.50% p.a. for up to $1M in deposits in your Up Savers as well as $1M in your 2Up Savers.

Read the full conditions on our pricing page.

As soon as your 2Up is empty and all 2Up Savers have been closed, either one of you can close it. Just a few taps and you're a lone ranger once more.