A night with Poncili Creación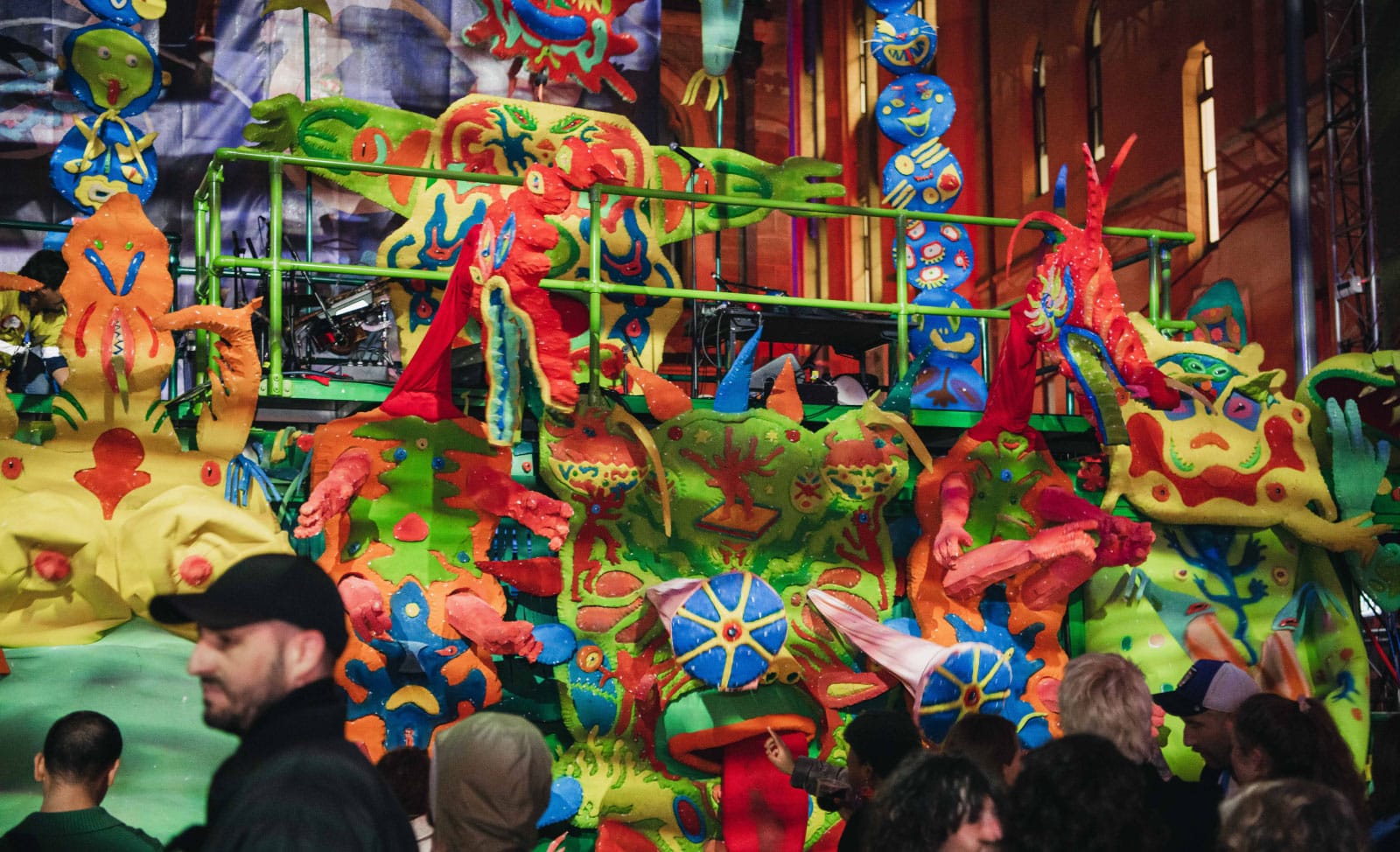 Music, food, arts & cultural festival RISING has just wrapped up after a 12 - night moonlit stint revolving around Flinders Street Station in the heart of Naarm / Melbourne.
We partnered up with RISING for the second consecutive year, this time to forge Night Trade — an animated nerve - centre on the grounds of the iconic St Paul's Cathedral. Punters were treated to intimate live music from local & international acts, hawker - style food, mutating art installations & dynamic theatrical performances — designed to overload the senses and spark vitality throughout the city.
It came as no surprise to us that stealing the show were Puerto Rican twin brothers Efrain & Pablo Del Hierro aka the art collective Poncili Creción. Known for their untethered, unhinged artistry and performances, the brothers treated all those in attendance to an experience they'll never forget.
When Efrain & Pablo are in the zone, getting them to stay put in the one spot takes some serious hustling, but in the midst of their residency at Night Trade, we caught up with Efrain for some general banter and to chat about the other - worldly concepts of Poncili Creción.
Up: Thanks for chatting with us tonight.
Firstly, your performance was f - ing sick — I feel like I'm on an acid trip everywhere I look.
Where do you see these creatures ? Are they from your dreams ?
Efrain: First of all, thank you. Thanks to RISING for trusting in us.
Yeah, I have dreams. I have constant visions of a different Earth. I have pressing and urgent thoughts in my mind to translate what I'm feeling to people. The way we do it is super strange and left field — we use accessible imagery with what people call our "puppets".
We feel we can really infiltrate people's minds and ask them to imagine and dream without telling them how to do it — this is what capitalism does, what the ad industry does, so we try to do the opposite of that.
Up: You certainly do. You've created creatures that are recognisable even though we've never seen anything quite like it! It's beautiful.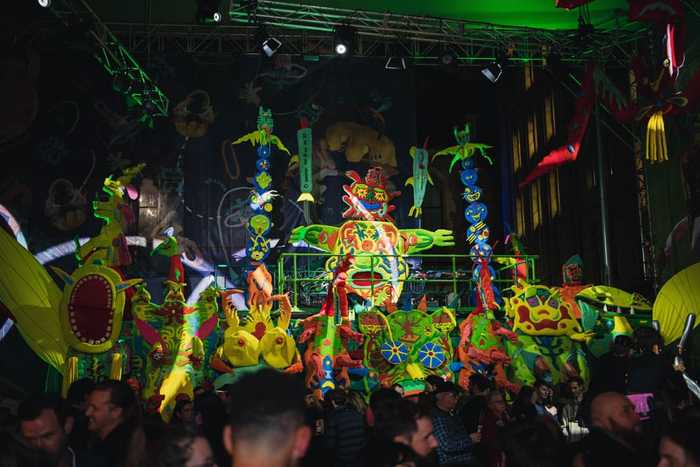 Now, I know you and your brother collaborate on so much together, but if you could collaborate with any artist dead or alive, who would it be ?
Efrain: I mean, we're super interested in unrecognised artists and people that don't yet have that 'artist' label. For example, we just did a huge art exhibition with kids. I'd love to do plays with thousands of kids, you know, I'd love to be involved in a massive public experience.
These are the kinds of artists I look up to, those who haven't yet polished their artist ego — they just want to do things. I feel much closer to them than any "artist".
Up: Absolutely. There's no influence. It's pure.
Time for a more serious question — if there were a flock of birds coming at you from every direction, how many do you think you could fight off at once ?
Efrain: Oh, I guess I could probably fight off 10 with my left and 10 with my right hand. I would also grab one with my mouth.
Up: Well, that's the highest count we've had so far. That's good to know.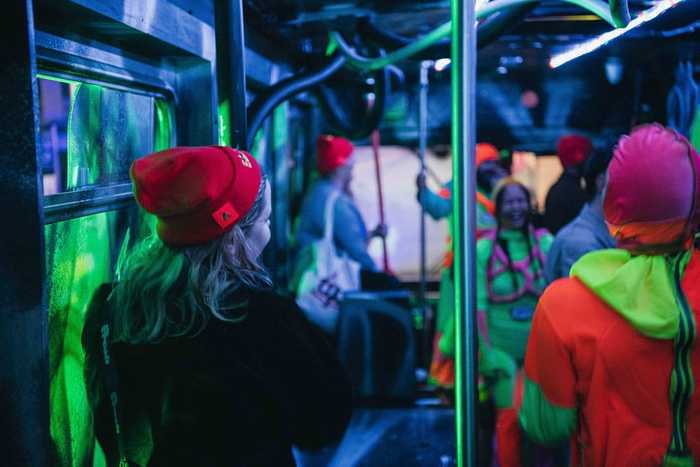 Up: Another serious one, what is the appropriate amount of time you can know somebody before peeing in front of them ?
Efrain: Immediately if you turn around, but probably a year before you could make eye contact.
Up: I like that. You've gotta work your way up to that eye contact. I'll remember that for next time.
Now, you work with your brother, who's also your work partner, but he's also your twin. Growing up, did you two ever successfully swap places or pretend to be the other twin ?
Efrain: That classical twins hijinks, you have to do it. We probably didn't do it as much as we should have but you know, that joke of making someone believe that we were only one person, yeah.
Being a twin is really a tool that you can utilise, there's a very profound connection, it's someone you know you can work really well with, you don't have to explain everything — they just know.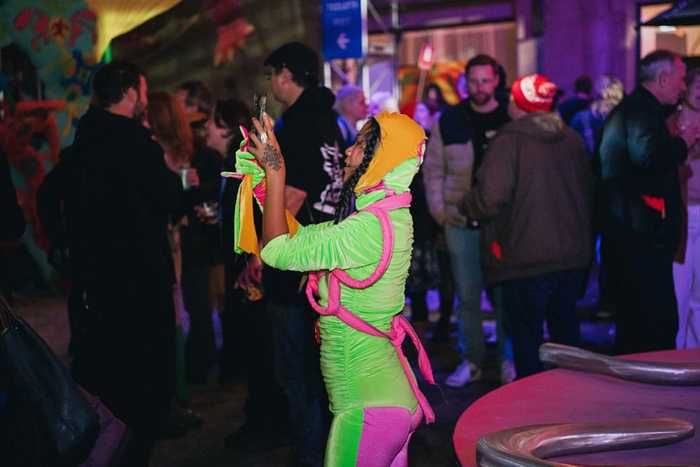 Up: Yeah, they're already on your level — that's obvious from your work together. We have absolutely nothing but praise for what you've created here.
Efrain: Thank you. We really respect the people out there that are trying to, you know, break the box and stay out of the norm.
I just wanted to say too, we're currently hiring groups of people, the name of our company that runs this whole interactive experience is 'Smiles and Likes'. Come get hired, come get fired and come see what it's all about. Thank you to Melbourne for having us.
Up: Brilliant. We'll spread the word. Cheers!
For all thingsPoncili Creación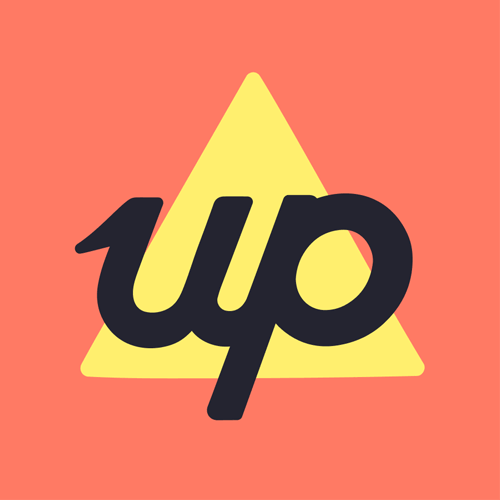 Get the gist
We'll swing our monthly newsletter and release notes your way.